Night canoeing and kayaking through Swedish wolf territory
To paddle under the sparkling, star-studded heavens is something special. To see the reflection of the moonlight in the dark water, and the silhouette of the dense forest out in the distance is something very special. When you add the howling of wolves to the moon, you have the experience of a lifetime.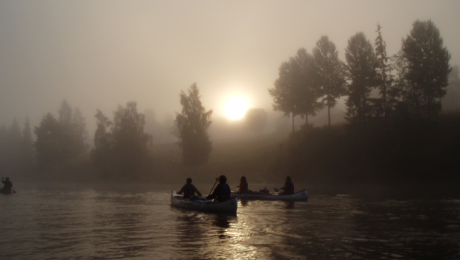 Nattpaddling i kanoter
A different, magic, exciting and beautiful adventure. A canoeing trip through the heart of one of Sweden's few wolf territories. Sometimes we hear the howling wolves in the distance. A nighttime wilderness adventure in The Kloten Wolf Territory.
There is something special about canoeing at night. Those who have not been introduced to nighttime canoeing may imagine that it occurs in total darkness; but those who have come along and accustomed their eyes to the darkness know that the night's light is a variation of nuances and colors. In the forest's natural darkness, the stars and the moon appear to shine much, much brighter. There is a significant difference in apparent shining power when a sky full of stars reveals itself far away from towns full of lights.
The Malingsbo-Kloten Nature Reserve is one Sweden's wildlife riches areas and moose, deer, lynx, beaver, fox, hare and badger are common animals in the area. There is a chance to see and hear some of the animals, but the animal getting the main focus this night is the wolf. Stories, information and tales about the wolf are told around the campfire. The canoeing goes through one of Sweden's wolf territories and sometimes we hear wolves communicate in the distance. Sometimes we hear howling's during the tour and at times we hear howls after we went to bed.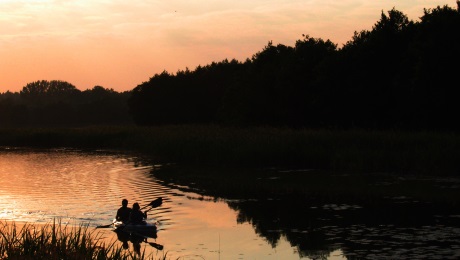 Nattpaddling i kajak
Nattpaddlingstur – Övernattning i vildmarken, vildmarkspicknick & vildmarksfrukost
1750 kr
/person. Barn under 15 år 1500 kr/barn
I skymningens magiska sken paddlar vi ut i vargreviret längs en långsträckt skogstjärn. Under paddlingen gör vi ett strandhugg på en ö där en vildmarkspicknick serveras. Under picknicken lyssnar vi på en kunnig och erfaren viltspårare som berättar historier om vargen och en del andra vilda djur i skogen. Medan mörkret faller återvänder vi till kanoterna. Det är nu som det riktiga äventyret börjar - Nattpaddlingen under stjärnhimlen genom ett av Sveriges vargrevir.
Turen inkluderar: 8 timmars guidad nattpaddling i kanoter eller kajaker genom ett av Sveriges vargrevir, en vildmarkspicknick med älgklämmor stuvade med grönsaker och bär från skogen, mineralvatten från det lokala bryggeriet, lokala frukter, te eller kaffe, övernattning i tältkåta, vindskydd eller tält, lägereld, vildmarksfrukost med hembakat bröd och hemgjord müsli, kanoter eller kajaker, paddlar, flytvästar, vattentäta säckar, sittdynor, sovsäckar, liggunderlag och transfer tillbaka till Kloten.
Where: Start and finish at Nordic Discovery's Adventure Center in the small village Kloten. The village Kloten is located in the heart of the Malingsbo-Kloten Nature Reserve along road 233 between Skinnskatteberg and Kopparberg. 2.5 hours' drive from Stockholm.
Type of paddling: Easy flat water paddling without currents. No previous experience is needed.
Canoeing distance: 11 km
Landscape description: We pass through the wild and untouched nature in the Malingsbo-Kloten Nature Reserve. The river is winding and the pine forest along the shore is deep and a popular retreat for many wild animals.
Equipment: Paddling can be done in canoes or kayaks. The canoes and kayaks are are made out of the strong hard plastic material, polyethylene and are in good shape. The kayaks are stable sea kayaks with broad waist constructed to manage big waves and strong winds in sea conditions.
When: The night canoeing tour is arranged between May 1 and October 31. Scheduled tours are on Saturdays-Sundays in October.
Dates with vacancies 7/10-8/10 and 14/10-15/10 .
Number of participants in total on the tour: 4-10 persons. Parties containing 4 or more participants have the choice to book the tour on other days between May 1 and October 31.
To bring on the trip: Rain gears (in case of rain or as a backup against rain) and warmer clothes to put on after sunset, when the temperature often drops. The participants will receive a bottle with drinking water at the beginning of the trip.
Information: At the starting briefing detailed information about the tour and basic paddling instructions is provided. Information about wolves and the Kloten wolf territory.
Safety: The main guide Mikael Nilsson is very knowledgeable about all aspects of canoeing, kayaking, the area, the wilderness and the wild animals that inhabit the deep forest. He is also a certified life guard, having passed all of the Swedish Life Guards' Association's tests for Life Guard Education. A first aid kit is brought on the tour.
Start and finish time: Depending on the hour of sunset, start times vary throughout the season. The tour starts a few hours before sunset and finish around noon the next day.
Övernattning i vildmarken
Night canoeing comfort tour – Accommodation, wilderness picnic & breakfast
1750 SEK
/person. Children under 15 years: 1500 SEK
Occurs according to the standard program detailed above, with indoor accommodation instead of overnight in the wild. The paddling starts and ends at the Wilderness Lodge. Accommodation in double room with sheets and towels.
Dates with vacancies 2017: 21/10-22/10.
Parties with 4 or more participants have the choice book the tour on any days between May 1 and October 31.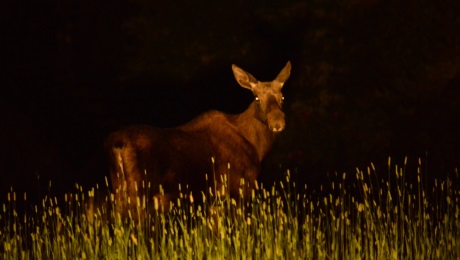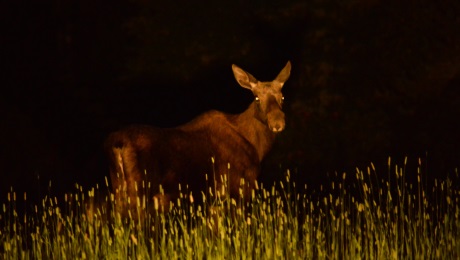 Majestätisk skugga i mörkret
Night canoeing tour – Overnight in the wild or in double room, dinner & breakfast
2000 SEK
/person. Children under 15 years: 1750 SEK
Occurs according to the standard program detailed above, except with dinner instead of wilderness picnic. The tour runs for 9 hours and includes a two-course dinner, with many ingredients from the forest. Parties with 4 or more participants have the choice book the tour on any days between May 1 and October 31.
Night canoeing through Swedish wolf territory in Christmas giftWhat to give in Christmas gift to people who already have everything ?

A nature experience - an appreciated Christmas gift.

Read about the night canoeing tour through Swedish wolf territory: http://www.nordicdiscovery.se/main-menu/guided-adventures/night-paddle-tour/

Read about gift cards: http://www.nordicdiscovery.se/gift-cards/

Publicerat av Nordic Discovery den 10 december 2013
Nästa guidade tur med platstillgång
Nästa guidade tur med lediga platser publiceras på Facebooksidan nedan. Ibland aviseras extra turer endast på Facebooksidan nedan (och inte i programmen ovan).