Alquiler de canoas en Suecia
Alquiler de canoas en el paraíso de remar, la Reserva Natural Malingsbo-Kloten en Suecia. The canoes are made out of the modern, strong, hard, plastic material, polyethylene. There are 40 canoes in the fleet. The canoes are transported in Västmanland and the south of Dalarna on bookings. The fleet also includes 20 single kayaks and 4 double kayaks.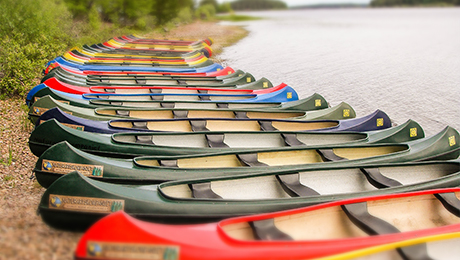 A steady and stable canoe which we are very content with. A polyethylene canoe in sandwich construction with one layer of small, separated air cells which make the canoe buoyant. The buoyant construction improves the safety of the canoes and allows for more packing space (since flotation blocks are not required). To be compared with canoes without inbuilt buoyancy, with flotation blocks of foam blocking the packing space in the front and in the back (i.e. canoes made of aluminum and fiberglass).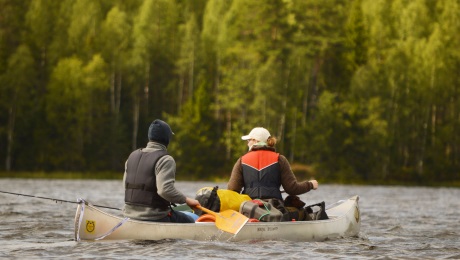 The modern material has together with aluminum proved to be superior compared to older materials. The polyethylene material with the many advantages has together with aluminum been chosen by Nordic Discovery. The canoes are seaworthy for two adults and one child up to 6 years old.
| | |
| --- | --- |
| Type of canoe | Canadian canoe |
| Brand | Hasle PE 530 |
| Length | 530 cm |
| Width | 86 cm |
| Weight | 38 kg |
| Capacity | 350 kg |
| Material | Polyethylene (sandwich construction) |
| Seaworthy for | 2 adults and 1 child up to 6 years old |
| Equipment dated from | 2016-2010 |
| Number of canoes | 40 |
| Price/person/day in the Malingsbo-Kloten Nature Reserve | 175 SEK (price/canoe: 350 SEK) |
| Price/person/week in the Malingsbo-Kloten Nature Reserve | 1050 SEK (price/canoe: 2100 SEK) |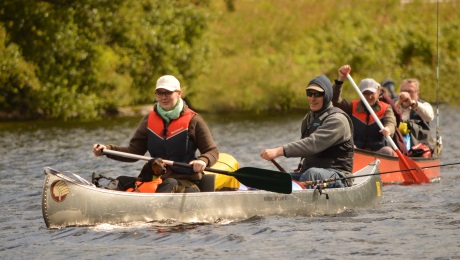 Alquiler de canoas - Todo el equipo esta incluido
Life jackets, paddles (which are available in children's sizes), canoe trolleys and canoe trail descriptions with maps are included in the rent of canoes. 
The equipment, which is from 2018-2010 is of good quality and in good shape. All other camping equipment can be hired. Read more about the additional equipment for rent: 

Price list >>

 
Information about canoeing and trip proposals
Nordic Discovery's personal service includes canoeing information and trip proposals. On arrival, a briefing about the canoe trails and the area will be held in front of the maps. Assistance with getting into the canoes and basic instructions are provided upon request.  Read about the canoe trails and the canoeig/kayaking in the area >>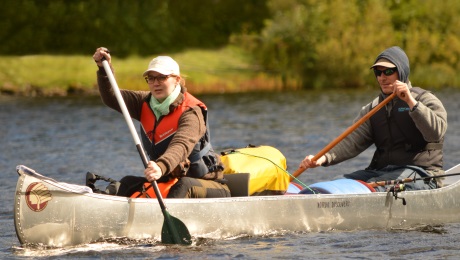 Certified Canoe Center
Nordic Discovery is a certified Canoe Center in accordance with the Swedish National Canoe Association's standards. 
"You can feel secure when you contact a certified Canoe Center, then you know that the safety and the information is taken care of according to certain standards"
The Swedish Canoe Association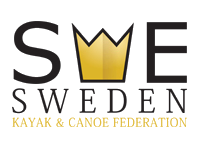 A Canoe Center with top location
The Canoe Center is strategically located in the middle of the wilderness, in a big Nature Reserve between two nice canoe trails.
The Canoe Station is open daily 09:00 AM - 07:00 PM from 1 May - 30 September. From 1 October - 30 April it is open daily (bookings are required).
The break-up of the ice is at the middle of April and the freeze-up is in the middle of November. 

Road descriptions to the Canoe Center >

>
Book canoes and kayaks
350 SEK/canoe and kayak
/day in the Malingsbo-Kloten Nature Reserve.
2100 SEK/canoe and kayak/week in the Malingsbo-Kloten Nature Reserve.
We have an uneven number of paddlers - what to do ?
The most common question at a Canoe Center is: "How can everyone participate when we have an uneven number of people? Is it necessary to drop somebody back home?" The answer is no. The salvation is the sea kayak and all hesitations and queries concerning kayaking are explained in the kayak section. Paddling in canoes as planned and simply adding one kayak is an excellent option, and provides a golden opportunity for all in the group to try kayaking. Read about kayaking >>
How to pack our gear ?
Most of the canoe is open and you are recommended to protect your equipment from getting wet. It is recommeded to pack your gear in water-proof bags. Water-proof bags of 60 litre capacities are available for rent. An option is to pack in plastic bags. More about additional equipment >>
Our teenagers are beginning to lose interest in the yearly holiday paddling - What to do ?
"We parents have a strong desire to do the holiday paddling together with our teenagers, but they' re starting to lose the interest. Is there any good trick to use?"
The answer and the advise is easy. The introduction of sea kayaks to the market came as something fresh and created a trend. It is both cool and trendy to kayak. This is something which is very important to teens who are very conscious of what other people think. Besides, kayaking is very fun.
With this simple advise, many parents keep their children on paddling vacations throughout the teenage year. Read about kayaking >>