Hiking tour through the Swedish wilderness
Guided hiking tour through the Malingsbo-Kloten Nature Reserve's wilderness. A pristine and wild natural area that has not been touched by civilization. The Scandinavian pine forest along the hiking trail is thick, dense and a popular retreat for many wild animals.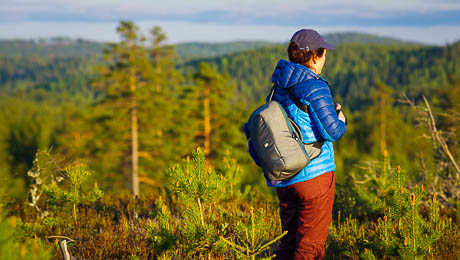 The hiking tour starts at Nordic Discovery's Adventure Center in the small village Kloten and finish with sauna and swimming in the small village Nyfors. At the half-way point, we stop for a wilderness picnic lunch. To the picnic we listen to an experienced and knowledgeable wildlife tracker who let us know about the wild animals in the forest (sometimes the tour is lead by guides on training). The hiking distance is approximately 12 km.
/
When: The hiking tour is arranged on Tuesdays between April 25 and October 25. Extra tours on other days after bookings.
Number of participants: 2-8 persons/guide and group. Normally 1 group/tour. Occasionally 2 groups/tour.
Parties containing 4 or more participants have the choice to book the hiking tour on other dates. If you are 2-3 participants and want a hiking tour outside of the scheduled days, please advise with anticipation and we will look in to the possibility of arrangement.
Starting time: 10:00. Finishing time: 20:00.